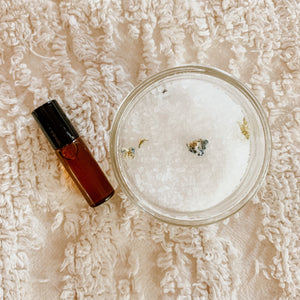 This Aunt Flow Care Package is full of essential oils that will help your cramps and mood during your period.

The 5mL roller has high quality hormone balancing oils that will help with PMS symptoms, as well as cramps. Simply roll this blend onto your lower abdomen and all around your inner ankles. 

The bath salts are also infused with essential oils that are very calming and relaxing. Simply pour half (or the whole jar) into your hot bath and take a good soak! The dried flower petals will float around while you soak.
You will feel so relieved afterwards! (Reapply your roller blend after your bath!)
* The roller blend includes coconut oil.